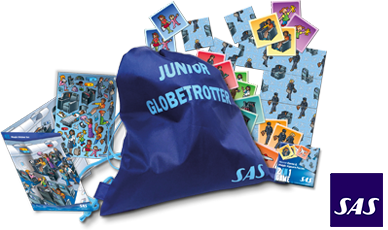 The long distance fleet upgrade meant also an update for the children program
Onboard the new aircrafts passengers can enjoy greater comfort, less noise and new seats in all classes. The experience onboard should also create a special feeling for the younger passengers and therefore SAS wanted to make an update of their children program.
SAS had special wishes for the kids pack. The artwork should reflect the Scandinavian Airlines brand, but most important the new cabins should be the main focus. The items should be for a wide age group 3+ and 7+.
To celebrate the long distance fleet upgrade the cabin crew will hand out a special designed SAS Junior Globetrotter Kids Pack. The Kids pack, which the youngest passengers can use active onboard is also designed for use back home after the trip. That goes for the gym bag, ideal for gym or swim classes – but also for all the other elements, such as the award winning UNISET Magic Sticker Set, 2in1 Game, Classic Memo and the Teaser game, Magic Puzzle.