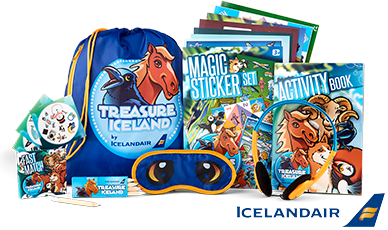 ICELANDAIR makes it fun for their youngest passengers to explore and learn about ICELAND by offering a unique companionship. Kids onboard are offered a careful selected variation of activities and games, which takes kids on a treasure hunt in ICELAND. Focus on high entertainment value, second life use and sustainable materials.
As a flag carrier the purpose is both branding of ICELANDAIR as an airline, but also an overall branding of Iceland. The families onboard ICELANDAIR shall be curious and interested to see more of Iceland, make a stop over and hopefully comeback someday and spend their vacation in Iceland, so how to instantly bond with the kids onboard?
ICELANDAIR takes kids on a treasure hunt by entering the exclusive ICELANDAIR kids universe. 5 Islandic friends and travel companions welcome the kids to TREASURE ICELAND.
Once in Iceland and out and about kids will meet the animals in real life and instantly bond, as they are already friends.
The kids packs are unique as they educate kids about ICELAND through fun activities and to make the packs even more interesting there is a build in "TREASURE HUNT" which is not seen before in a kid's pack. Like ICELAND it makes the packs mysterious, interesting, fun and a real adventure!