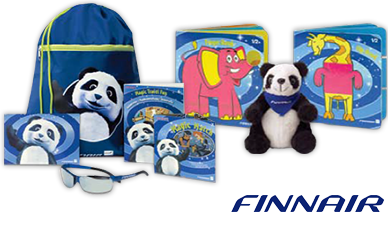 Happy kids have a positive effect on everyone
Finnair have offered a comprehensive onboard give-away service to its child passengers, including our products for more than 18 years. On assessing the articles in use, we concluded that there was room for improvement with regards to quality, education and play value. Therefore, we offered our services in the development of a child concept. With a grounded cooperation of almost two decades, Finnair were appreciative of our offer to share our expertise in this field.
Our first objective was to show Finnair how a child concept that unifies the articles could enhance their offer to children and in return create more brand recognition for Finnair. The Children's Fun bag was created, in coherence with Finnair's corporate branding and depicts Finnishness and freshness. But foremost, as always, our focus was on creating a product that appeals to the child in a fun and educational way, with articles of high play value.
With the recent introduction of the Finnair Panda advertising campaign, we considered this an ideal opportunity to create a mascot. The panda appeals to all ages, with its cute friendly character, immediately being recognized by the child and its parents. Smiling and welcoming, they have dual gender appeal and are of particular interest with Asian passengers and passengers travelling to Asia – Finnairs core passenger group.
We presented our branding idea of the 'Welcoming Panda' to Finnair. With a varied selection of articles, there was something to entertain everyone, from both a fun and educational aspect, but also with souvenirs to continue the branding power of Finnair, once the child has left the aircraft.