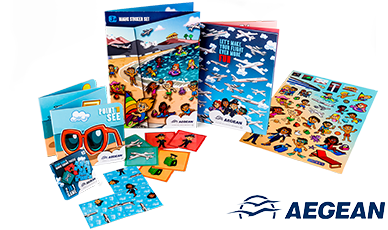 Optimize the existing children inflight program and get an exclusive set for all age groups
For several years, KIDZinflight has enjoyed working with AEGEAN, an airline that takes families and children serious and wishes to provide them with the best experience onboard. However, it was time to evaluate and update the existing inflight program for children.
Together AEGEAN and KIDZinflight decided to optimize the co-operation and develop an exclusive child concept. The main challenges were to create a unique inflight concept for children which:
Optimizes the entertainment for the target group onboard
Leaves the families with a great experience of cabin crew and service onboard
Provides the families and other passengers with fond memories of AEGEAN and their beautiful country, Greece
KidzInflight illustrators created a new concept in close co-operation with AEGEAN and the total program were evaluated according to age group and up-dated.
The overall theme was to have crew members appear in Greek landscapes.
In this way, a link was created between AEGEAN and the feeling of being on holiday. The concept is colourful, attractive, and appealing to children.